Variance of Teacher Identity in First-Year School Teachers: The Role of Gender, Taught Subject, and Grade Level Taught

Abstract views: 61 /

PDF downloads: 57
Abstract
Although antecedents of teacher identity have been well investigated over decades, the role of demographic variables in teacher identity variance has received relatively little research attention. The study explored how teacher identity (grounded in a four-indicator model comprising occupational commitment, teacher self-efficacy, job satisfaction, and motivation to teach) might differ on three key demographics: gender, taught subject, and grade level taught. To reduce possible noise from other demographic constructs (e.g., age, tenure, and job level), participants were recruited from a cohort of 464 first-year school teachers in Mainland China. Using multiple analytic techniques, findings indicated that female teachers were less committed to the teaching occupation than were male teachers. Those teaching social sciences in primary schools showed lower levels of occupational commitment and teacher self-efficacy than did those teaching sciences at secondary schools. Implications and suggestions are provided.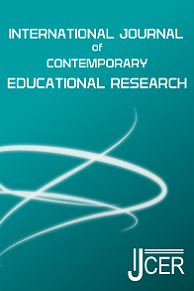 Downloads
How to Cite
Li, B., Li, Z., Tang, G., & Luo, Z. (2023). Variance of Teacher Identity in First-Year School Teachers: The Role of Gender, Taught Subject, and Grade Level Taught. International Journal of Contemporary Educational Research, 10(3), 607–617. https://doi.org/10.52380/ijcer.2023.10.3.437
License
Copyright (c) 2023 Bing Li, Zheng Li, Guangjie Tang, Zhengpeng Luo
This work is licensed under a Creative Commons Attribution-NonCommercial-NoDerivatives 4.0 International License.