Impact of Gamification Applications on Students' Attitudes towards Lesson and Procrastination Behaviors

Abstract views: 62 /

PDF downloads: 69
Keywords:
Gamification, primary school students, attitude, procrastination behaviors, motivation
Abstract
The aim of this study is to evaluate the effectiveness of foreign language teaching with gamification applications at primary school. In this research, embedded design, which is one of the mixed methods in which quantitative and qualitative methods are used together, has been adopted. The study group of this research is comprised of 33 students from 4th grade at a primary school. Research data were collected through attitude scale for English lesson in primary school, homework, follow-up chart and semi-structured interview. The data of the scale were subjected to inferential statistics, the data of the chart was subjected to descriptive statistics and the data of the interview was subjected to content analysis. According to the findings of the study, the gamification applications significantly increase the attitude of primary school students and have a positive effect on procrastination behaviors. In addition, primary school students have positive evaluations about these applications as making the learning process fun, increasing their curiosity to learn, the participation in the lesson and the desire to be successful. In line with these results of the research, it is recommended to use gamification applications in education for effective teaching.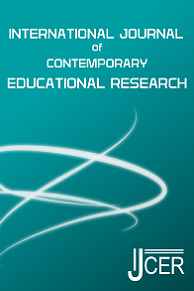 Downloads
How to Cite
Tatlı, Z., Gülay, A., & Mert, A. (2023). Impact of Gamification Applications on Students' Attitudes towards Lesson and Procrastination Behaviors. International Journal of Contemporary Educational Research, 10(2), 522–534. https://doi.org/10.52380/ijcer.2023.10.2.387
License
Copyright (c) 2023 Zeynep Tatlı, Ahmet Gülay, Arzu Mert
This work is licensed under a Creative Commons Attribution-NonCommercial-NoDerivatives 4.0 International License.